Tomorrow afternoon, the Rangers will be taking the field as the visiting team in Yankee Stadium. Ho hum.
Wait, it's January. That can't possibly be right?
Oh. The New York Rangers. And there's an ice rink on top of that gorgeous diamond infield. Now it makes sense.
I feel like I really need to write this post, but at the same time, I'm not entirely sure what to say. Rather, I don't know how to effectively say what I want to say. Because the NY Rangers playing games at Yankee Stadium? That gives me some of the most amazingly intense feelings I've ever had.
I got into hockey and the Rangers first, watching my dad get excited as the Rangers appeared to be making a serious run at breaking a 54-year Cup drought. I remember them winning, and after that I started playing field hockey and Mike Richter was my hero. And then the Yankees began their insane domination over the late 90s, and I fell in love with baseball and my team.
Living in Phillies/Flyers territory, I have gotten a lot of flack being a Yankees fan. I've been often told that I just like the Yankees because they win (as if that somehow is an illegitimate reason for liking a team); my typical response has been, "I also like the Rangers, so." It usually does work to diffuse the situation without getting into a whole pissing match.
I first went to a Yankees game in 2008 at the old stadium, and the next year I went to one at the current stadium. My first visit was basically my first religious experience. I've been to many stadia, but Yankee Stadium is perfection to me. It represents so much about winning and tradition and class. There are history and ghosts, and the panoramic sight of that place clenches my heart and makes me miss a home I've only been to a few times—the last time was this past fall, when I took my dad to Mariano Rivera Day to celebrate and say goodbye to my favorite of all Yankees. Just thinking about that day makes me want to curl into a ball and cry.
For about 2 years now, I've gotten re-invested in the Rangers, and in hockey in general more than ever before. It started with the 2012 Winter Classic in Philadelphia, where they played in the Phillies' home, Citizen's Bank Park. I've been to CBP a few times since, and I've felt a little thrill thinking about how my hockey team had been there. I've been through so many highs and lows since then with my team, and now…
Well, now they're playing in my Cathedral. I love Madison Square Garden (hey, did you know it's been Transformed™?), I do, but Yankee Stadium is where my heart misses most, especially during the long, cold winter when you can't play baseball there.
But you can play hockey there.
And you can make it a spectacle. You can make it significant. You can watch the players get excited for it. You can make me cry as I watch how the players care about it as much as I do. Like Henrik Lundqvist, who talks about how he put together his concept for the design of his special Stadium Series mask (starts at about 1:15, though the whole video is amazing):
Or listen to the Rangers talk about their dream baseball plays, and enjoy Chris Kreider's goofy face:
(These idiots are adorable and I love them.) And let's not forget the pure delight I get in watching Brian Boyle, Boston-raised Red Sox fan, look happy and excited to be in Yankee Stadium.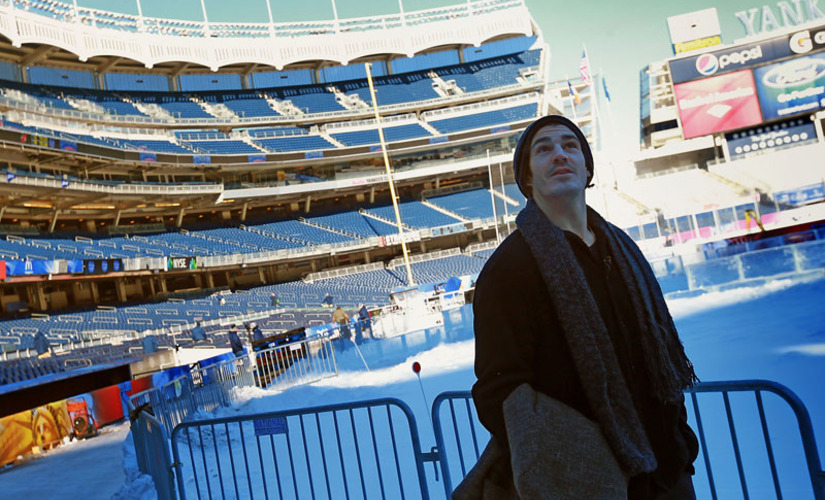 And this is all just the lead-up. Let's think about what the game coverage itself will bring. Let's think about how they'll talk about Yankee Stadium, talk about all the history. And they'll ask the players how it feels to be there, to be playing in the home of such an amazing franchise.
Tomorrow afternoon, I am going to be a wreck and a half. Aside from a Stanley Cup Final appearance, I don't know that any other hockey game will mean more to me. Even Wednesday's game will lose a little because I'll have already experienced Sunday's. But while I watch Sunday's game, I'm going to be a mess. I've already cried a couple times today just thinking about how perfect this game will be.
So, let me apologize in advance for what a weirdo I'm gonna be on Twitter. I should probably warn my dad that I'm going to be more insane than normal watching this game together. The game is already almost perfect. Now I just need my idiots to win the dang game to take it to that level.